E.A.G.L.E.S. Eaglessssss!
So the Eagles won…even though our

record is pretty terrible and it is very unlikely that we will make the playoffs, it's nice to see your team win. Especially against a division rival. And that is exactly what happened on Sunday. Cool
J
The rest of the day was pretty relaxing. Kinda the theme of the whole weekend. I reheated the black bean burgers for dinner and made sweet potato fries and mashed potatoes. Apparently I was carbo loading for no apparent reason.
Then I made our Supper Schedule for the rest of the week. Because it was Supper Schedule Sunday. Obviously. Unfortunately, the first menu is kinda boring because we are leaving to go to my MIL's on Wednesday night and won't be back until Sunday. Which means that I am attempting to eat everything perishable in our fridge in 3 days. Here goes…
Supper Schedule for the Week of 11.21.11
Monday - MNF = leftover polenta
Tuesday - Vegan pumpkin cheese sauce with shells & steamed peppers, mushrooms, spinach and kale
Wednesday –Black Bean Burgers and baked kale chips with nutritional yeast
Tuesday is honestly just everything in the fridge thrown together with some vegan cheese sauce. But just about anything will taste good with cheese sauce.
And since I was on a roll/have been slacking on my fitness/plan on eating a lot on Thanksgiving, I decided to be a little ambitious this week and create an exercise schedule.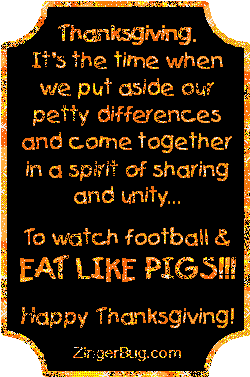 Monday –Abs
Tuesday – 2m run and 15 mins stretching
Wednesday – Insanity Recovery DVD
Thursday – Cantrell First Annual Turkey Trot 5K
Friday – Insanity Recovery DVD
Saturday – 3m run and 15 mins stretching
Sunday – Rest day/Football!
WHAT I AM THANKFUL FOR:
3 day work week – nuff' said!